[ad_1]

Between 2011 and 2018, GfK reported the number of brands in the pet food and treat space grew 71%, and the sheer number of individual products, or SKUs, grew 88%. These numbers have only continued to grow into 2020 as human brands and pet startups enter this market and industry veterans diversify their portfolios with new products and formats.
In the spirit of proliferation and innovation, below is a noncomprehensive list of new pet foods, treats, supplements and meal toppers shaking up today's marketplace.
ProPlan LiveClear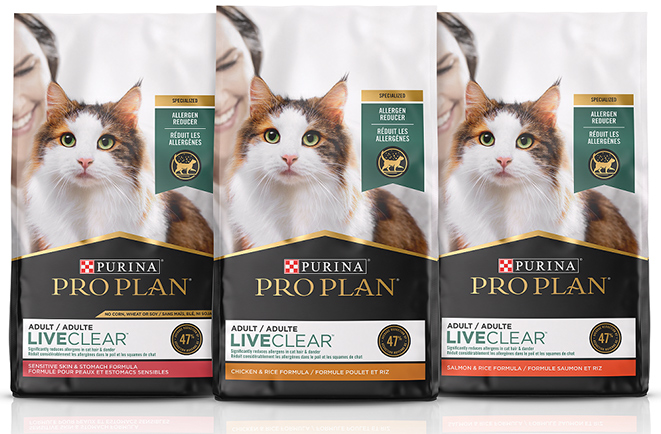 Purina first announced the development of this groundbreaking cat diet in February, which employs an egg-based ingredient containing antibodies of Fel d1, the major cat allergen that causes adverse reactions in some humans. The egg-based ingredient binds to Fel d1 and neutralizes the allergen in cats' saliva, inhibiting it at the source and preventing it from spreading to cat hair and dander and, ultimately, the living environment.
Protein-Packed Treat Bar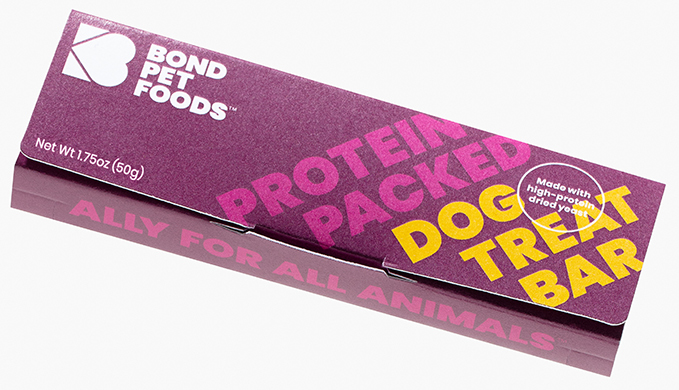 This is the first product from Bond Pet Foods Inc., a biotechnology startup founded in 2017. The company is developing fermentation to culture alternative protein sources without the use of any real animals or meats. Its Protein-Packed Dog Treat Bar is formulated with a novel dry yeast protein that boasts a minimum of 29% protein per bar.
Super Fly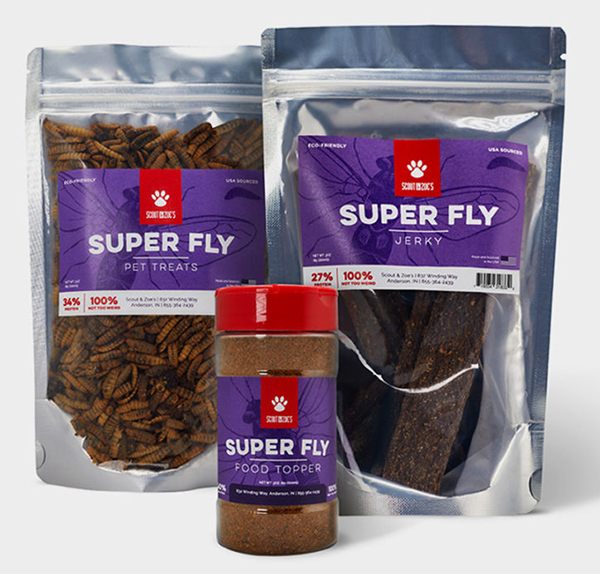 Scout & Zoe's, a US pet food and treat brand, has launched its latest product line, Super Fly for dogs. They are the company's first insect-based products and include a whole-larvae treat, a dry powdered larvae meal topper, and a dried black soldier fly larvae jerky treat.
Wilder Harrier Asian carp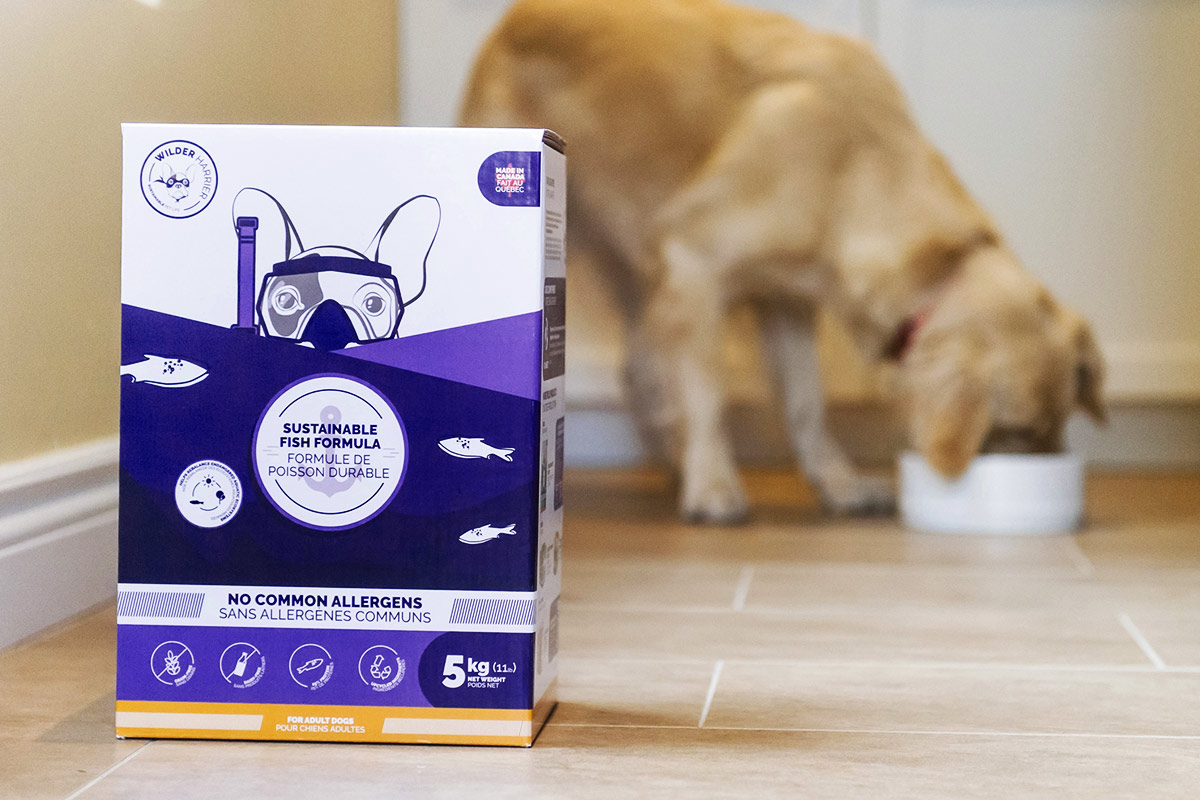 This Canadian pet food company uses alternative proteins to achieve maximum sustainability. In November, it released its latest dog food formula with Asian carp, an invasive species with a foothold in both Canadian and US rivers and lakes. The Asian carp dog food is currently available in some pet supply stores in Quebec. It will be rolled out across Canada beginning January 2021 and sold through Wilder Harrier's website. Wilder Harrier is partnering with American commercial fishing groups in Illinois to supply Asian carp for its new dog food formula. The pet food company hopes its efforts will spearhead the mitigation of invasive Asian carp throughout North America.

This brand is well-known as a sustainable name in the dog toy and accessory business, and launched its first ever line of dog treats this summer. The line includes both limited-ingredient and single-ingredient freeze-dried treats, as well as two creamy treats that can be fed straight from the tube, as a meal topper, or on top of one of West Paw's freeze-dried treats.
BLUE Bursts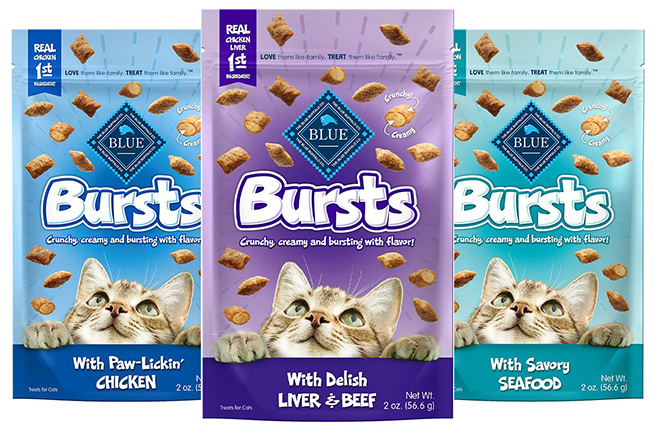 Blue Buffalo added to its portfolio of cat treats in May with BLUE Bursts, a line of all-natural treats with a crunchy exterior and creamy filling. They are formulated without poultry byproduct meals, corn, wheat, soy or artificial ingredients, as are Blue Buffalo's other pet foods and treats.
Raw-Coated Cat Kibbles and Marie's Mix-Ins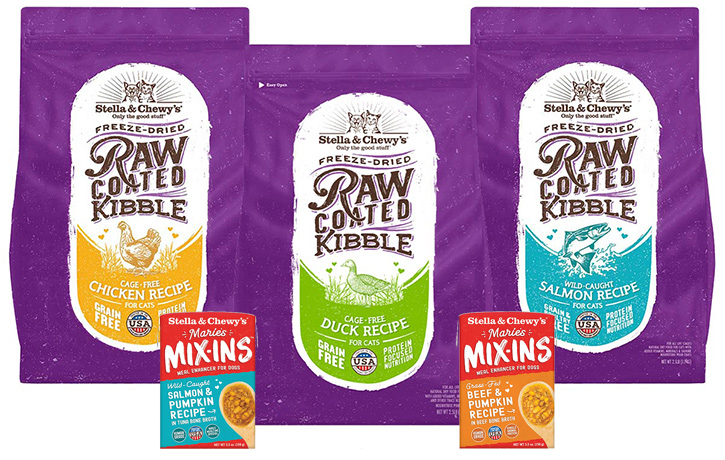 Two new products from Stella & Chewy's this year are a line of high-protein, grain-free kibble for cats and meal toppers for dogs. Each bit of Raw-Coated Kibble for Cats is coated in a freeze-dried raw formula to boost nutrition and palatability. Each of the three cat diets are formulated without artificial ingredients, chicken byproduct meals, corn, wheat, or pea and soy protein.
The company also launched Marie's Mix-Ins, a collection of meal toppers-slash-treats for dogs. Formulas include whole muscle meat-derived bone broths with added superfood ingredients such as pumpkin, sweet potatoes and turmeric.
ZIWI Pets' multi-protein diets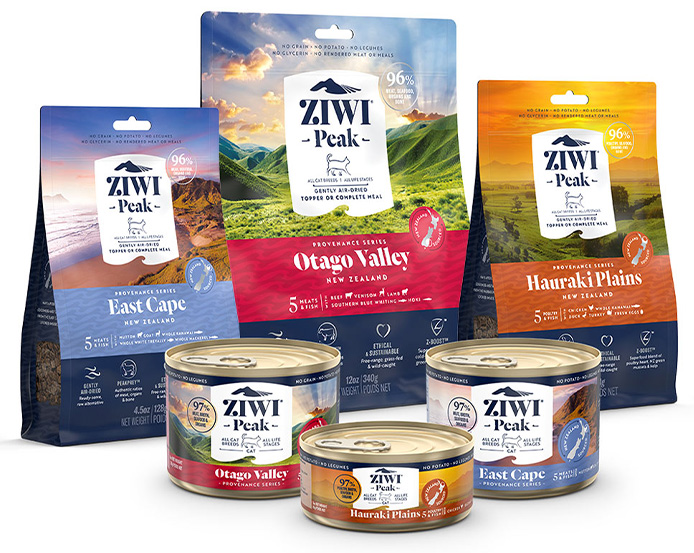 This New Zealand-inspired pet food brand launched a new line of regionally inspired dog and cat diets, each including a combination of five animal proteins, including fish, sourced from one of three regions in New Zealand. ZIWI Peak's Provenance Series includes Otago Valley, East Cape and Hauraki Plains formulas – each with a dehydrated dry kibble and wet canned option for both cats and dogs. All formulas and formats can be fed as a complete meal or as a topper.
Gastrointestinal Kitten & Puppy Diets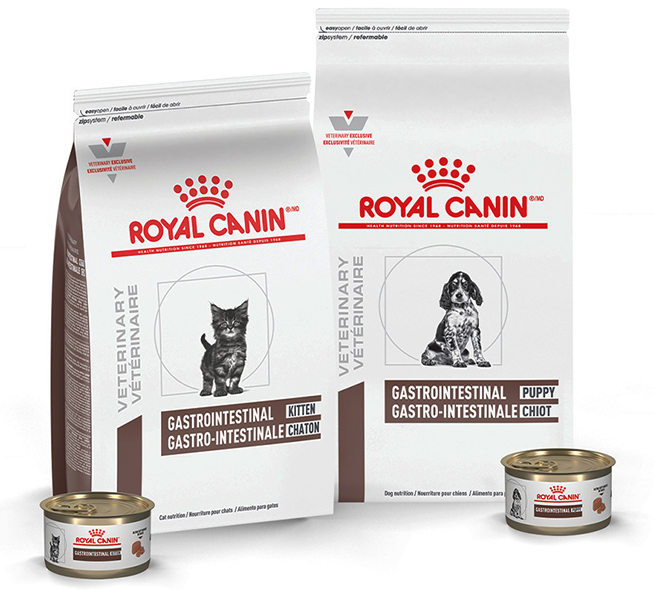 Within its mission of providing solutions-based pet diets targeting specific health functions and needs, Royal Canin launched two diets to support digestive health in puppies and kittens. Gastrointestinal Puppy and Gastrointestinal Kitten are formulated specifically for the immature digestive systems of young dogs and cats. The portfolio includes dry kibble and wet canned diets, each including highly-digestible proteins, balanced fibers and added EPA and DHA.
Royal Canin also launched a urinary care formula for cats in July, which incorporates 10 different urinary ions, pH and effective minerals for maintaining urinary health.
Daily Dish Smoothies and Broths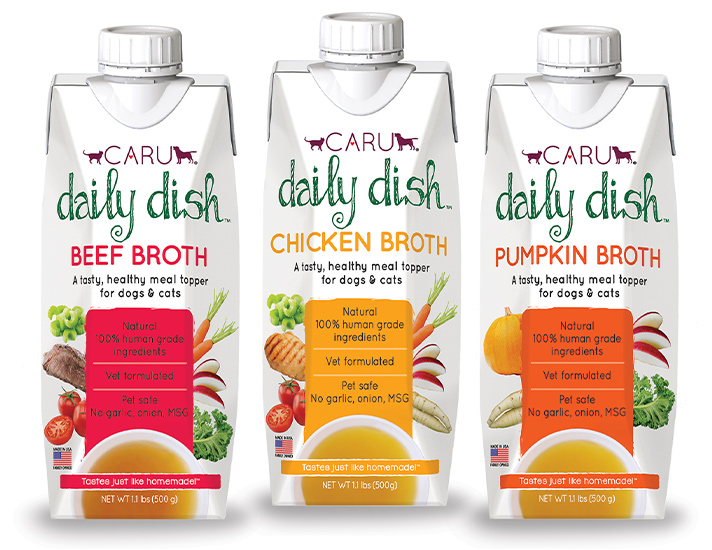 Caru Pet Food Company expanded its line of dog and cat treats with Daily Dish Smoothies, a lick-able treat that can be fed straight from the tube or as a meal topper to improve hydration and palatability. These all-natural, human-grade treats are formulated without artificial ingredients, wheat, corn, soy or GMOs.
The company also added new Daily Dish Broths for dogs and cats. They are formulated by a team of veterinarians and include limited, natural and human-grade ingredients to enhance hydration. New Daily Dish Broths can be fed as a liquid treat or as a meal enhancer with dry kibble, freeze-dried or dehydrated diets.
Canidae PURE
In October, Canidae introduced two new dry dog food products, PURE with Wholesome Grains and its new flagship line of complete-and-balanced diets. Both new products incorporate wholesome grains such as brown rice, oatmeal and barley, and are formulated by veterinarians.
Canidae's new PURE with Wholesome Grains line includes six complete-and-balanced formulas intended for dogs with sensitive stomachs, each formulated with no more than 10 ingredients. Its new flagship line includes six additional formulas, including chicken and barley, salmon and brown rice, turkey and barley, beef and oatmeal, a lamb formula for large breeds, and a turkey formula for puppies.
Oven Baked and Backcountry Raw Coated Biscuits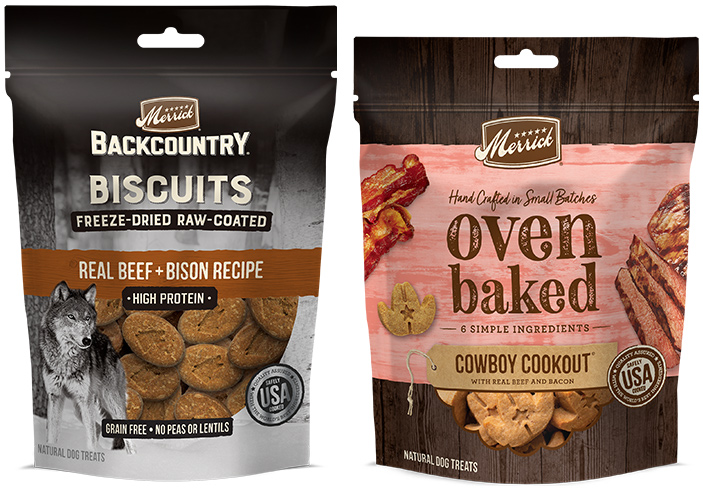 Merrick Pet Care released two new dog biscuit offerings in August: Oven Baked Biscuits and Backcountry Raw Coated Biscuits. Both were designed as an innovative twist on the traditional dog biscuit and are slow-baked in small batches. Each Oven Baked Biscuits formula contains no more than eight ingredients. The brand's Backcountry Raw Coated Biscuits are freeze-dried and raw-coated to offer a high-protein treat option.
FUSION Frozen Dinner Patties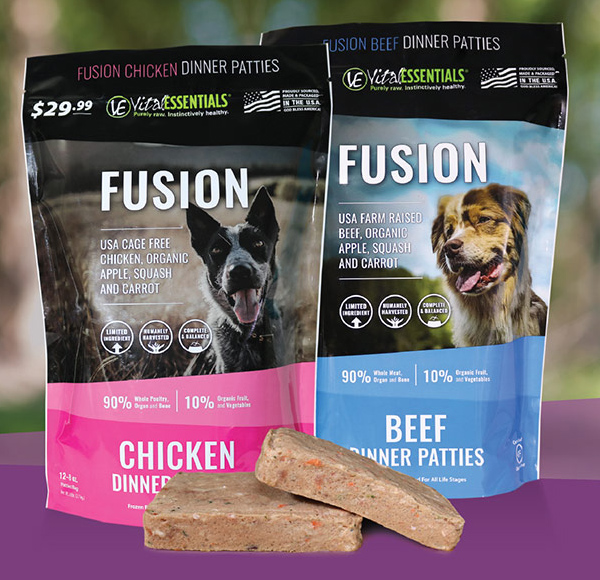 Vital Essentials introduced FUSION Frozen Dinner Patties as a consumer-focused option to complement its raw and freeze-dried portfolio. Each patty is formulated with 10% organic fruits and vegetables, including apple, squash, carrot, blueberry and broccoli, and 90% single-sourced whole animal meat, organ and bone to provide maximum nutrition at mealtime. FUSION Dinner Patties are flash frozen to preserve nutrients.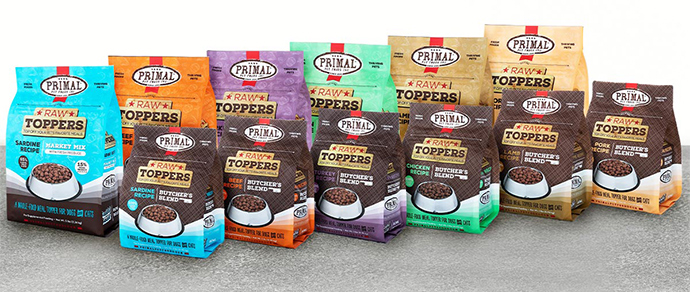 Primal Pet Foods added a variety of raw meal toppers for dogs and cats in July, as well as reformulating and redesigning its two existing topper lines to offer convenience to pet owners and optimized nutrition to pets. The brand rebranded its Grinds meal topper line as Butcher's Blend Raw Toppers, which offer 100% animal-based ingredients from high-quality meat, poultry and seafood sources. They include animal protein, organ and bone.
Primal Pet also rebranded its Mixes line as Market Mix Raw Toppers. These meal boosters are formulated with 85% animal protein, organ and bone. The remaining 15% of the topper includes organic fruits and vegetables to deliver phytonutrients and antioxidants.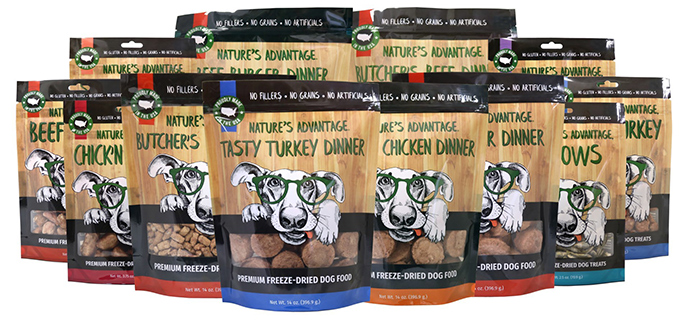 Following the launch of the brand with a single freeze-dried beef dog treat in July, Carnivore Meat Company added 10 freeze-dried dog food and treat products to its Nature's Advantage portfolio. New additions to the Nature's Advantage line include six dog treats and four complete-and-balanced dog food products. Treat formulas include Chick'n Hearts, Tender Turkey, Minnows, Really Rabbit and Savor'n Salmon. Complete-and-balanced dog food diets include Beef Burger Dinner patties, Butcher's Beef Dinner, Tasty Turkey Dinner and Craving Chicken Dinner. Carnivore Meat Company also shared plans to launch a line of freeze-dried cat nutrition products in early 2021.
Complete Health Variety Packs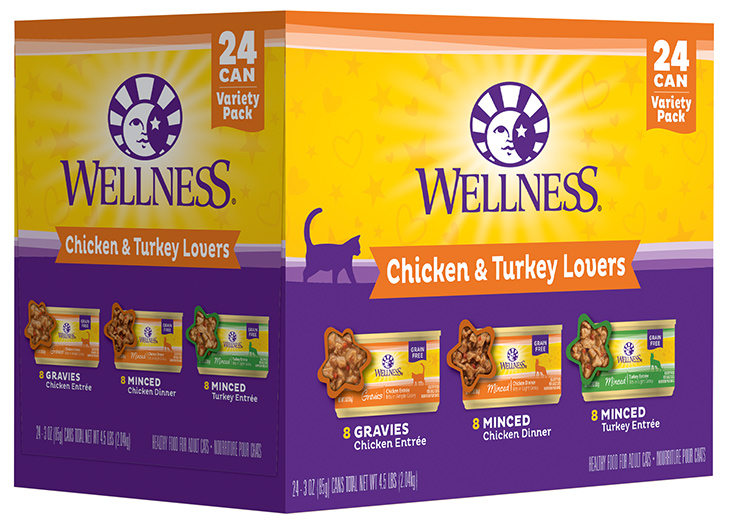 Wellness Natural Pet Food's Complete Health brand of cat foods introduced a variety pack of formulas to provide convenience and variety to cat owners. The variety packs include Wellness's top-selling wet cat food recipes, each formulated without grains, carrageenan or artificial ingredients.

Redbarn Pet Products debuted its first dry dog food formulas in late October, launching a whole grain-inclusive line as well as a grain-free line of high-protein kibble for dogs. In each of the whole grain and grain-free formulas, the first five ingredients are animal proteins. The formulas are separated by "Land," "Sky," and "Ocean," divided by the types of animal proteins used in each formula. According to the company, each diet addresses overall wellness, including heart health, digestive health, and skin and coat health.
Cloud Star Regional BBQ Jerky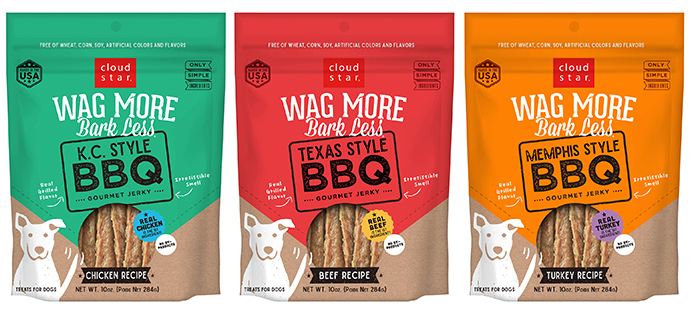 Cloud Star, a Whitebridge Pet Brands company, launched a new line of jerky treats for dogs inspired by regional BBQ recipes. The treats, launched in November, appear under Cloud Star's Wag More Bark Less brand and are available in three recipes: chicken, beef and turkey. These meat proteins are the No. 1 ingredient in each formula, followed by natural ingredients such as tomatoes, honey, lemon juice and turmeric.
BIXBI Liberty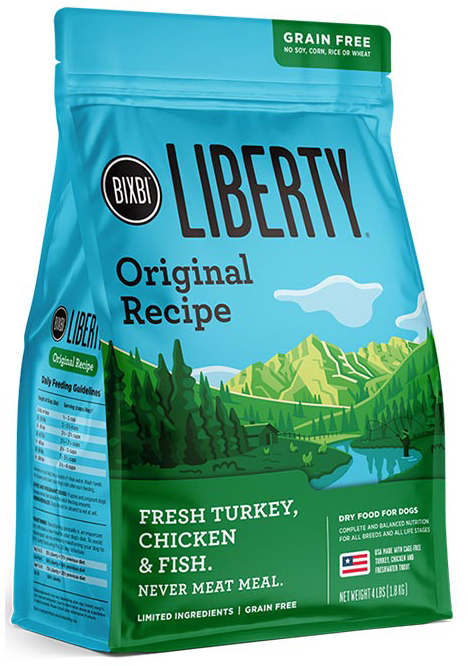 LIBERTY dry food for dogs is the latest kibble line from BIXBI Pet, applying the same approach used in the brand's original RAWBBLE recipes – always fresh meat and never any rendered meat powders. LIBERTY is available in six recipes, including ancient grain and grain-free options, and dry kibble specially for small breed dogs.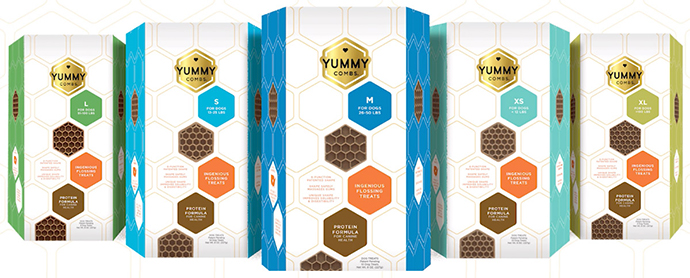 In April, Pet's Best Life launched its inaugural pet product, Yummy Combs, a patented dental dog chew. The honeycomb shape is designed to prevent gingivitis and periodontal diseases in dogs, facilitating a flossing motion along the gum line and on the surface of dogs' teeth. The formula features added vitamins and minerals and 44% protein primarily sourced from chicken for a well-rounded, functional dog treat.
Tender & True
This environmentally conscious pet brand launched two new dog products this year: a freeze-dried Farmer's Market Recipe and Organic Smoked Salmon premium jerky treats. Its complete-and-balanced Farmers Market Recipe includes 100% organic fruits and vegetables, and humanely raised chicken and turkey proteins sourced from farms certified by the Global Animal Partnership for animal welfare standards. The company's salmon jerky treats feature USDA-certified organic smoked salmon and offer a high meat protein content.
Lord Jameson's holiday treats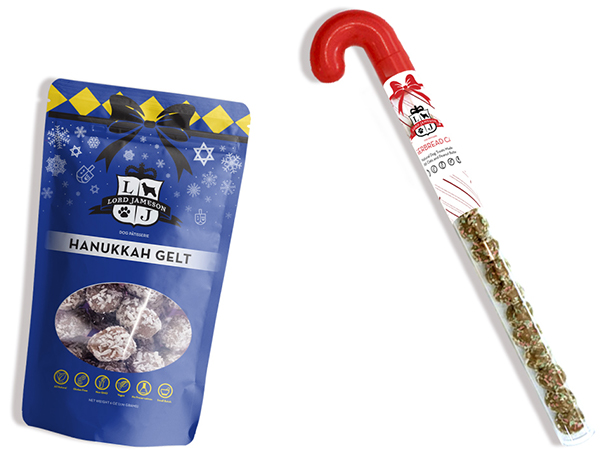 This artisan dog bakery launched a special edition line of organic, holiday-themed dog treat products, with recipes including Holiday Cobbler, Gingerbread and Hanukkah Gelt. Like all other Lord Jameson treats, formulas in this collection are hand-made without artificial ingredients, wheat, corn, dairy, GMOs or preservatives, and rolled in organic coconut flakes for added palatability and nutrition.
Eukanuba Premium Performance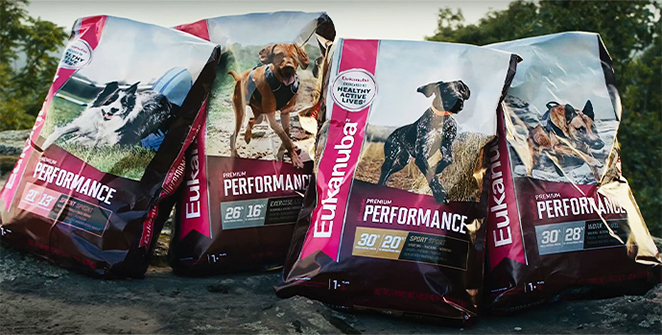 This Royal Canin brand is reimagining sporting dog nutrition with its new line of Premium Performance kibbles. Each diet is catered to a specific activity level and delivers nutrients that target varying areas of performance. Premium Performance diets include 21/13 SPRINT, 26/16 EXERCISE, 30/20 SPORT AND 30/28 WORK formulas.
In each of the four Premium Performance formulas, Eukanuba took three perspectives: recovery, digestion and whole dog nutrition. Each diet features a custom blend of antioxidants to fuel recovery by reducing oxidative stress, as well as enhanced blends of fiber and prebiotics for healthy digestion.
VICTOR x Realtree
Speaking of performance diets, Mid America Pet Foods, the maker of VICTOR Super Premium Pet Food diets, partnered with Realtree, a leading brand of camouflage, offering outdoor and lifestyle products, to create a new subline of formulas for active hunting dogs.
The two new formulas — Realtree MAX-5 PRO and Realtree EDGE ENERGY — include added glucosamine and chondroitin to support mobility in active dogs. Both recipes are formulated with increased levels of essential nutrients to promote energy and stamina.
Chicken Soup for the Soul Pet Food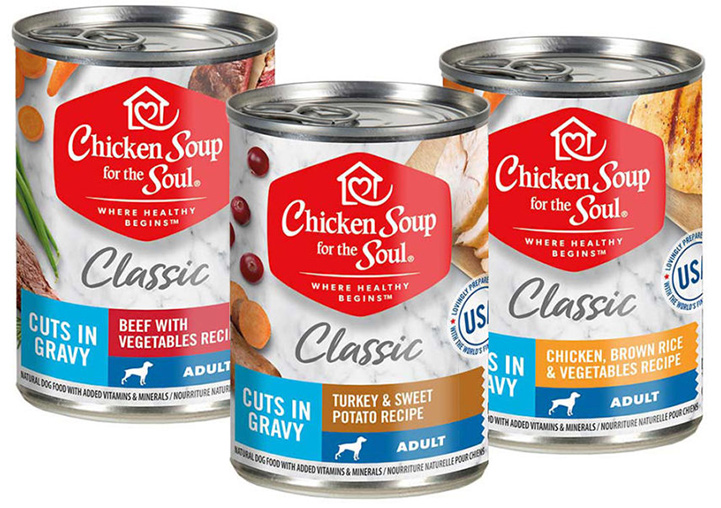 This pet-focused subsidiary of Chicken Soup for the Soul added a new line of wet dog foods to its portfolio in October. The new line, Cuts in Gravy, includes three formulas: turkey and sweet potato, beef with vegetables, and chicken, brown rice and vegetables. Each gravy-style formula features animal meat as the first ingredient, as well as whole fruits and vegetables such as blueberries, cranberries, green beans, sweet potatoes, carrots and spinach to provide omega 3 and 6 fatty acids for skin and coat health.
Dogswell ENERGY Extended Activity Fuel and Vitality Jerky
This Whitebridge Pet Brands company launched two products in the back half of this year: ENERGY Extended Activity Fuel and VITALITY Jerky treats. ENERGY Extended is a mousse-textured, high-protein performance dog treat formulated with chicken and coconut oil as sources of protein and MCT [medium-chain triglycerides]. The formula also includes pumpkin to aid in digestion and a highly digestible egg protein.
VITALITY Jerky comes in two functional formulas: Chicken and Mango and Beef and Banana. Each formula includes US-sourced, farm-raised chicken or beef as the first ingredient. Other ingredients include vitamin-rich superfoods such as mango, banana, ginger, honey and coconut oil.
Tiki Cat Special and After Dark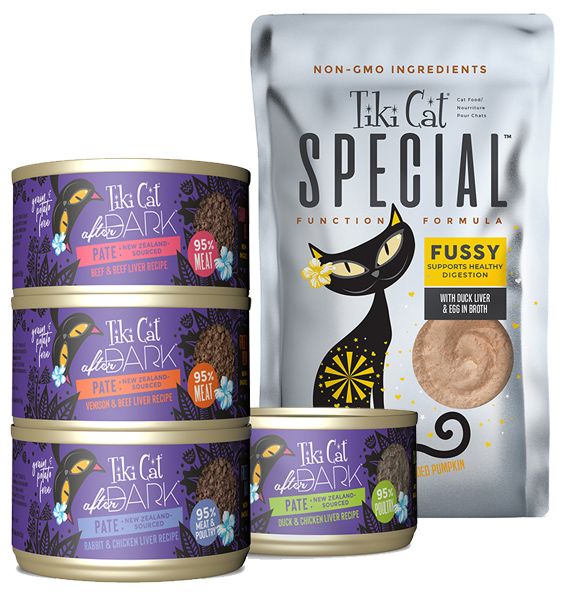 Tiki Pets, another member of Whitebridge Pet Brands, launched two wet cat diets: Tiki Cat Special™ functional formulas targeting digestive issues, skin and coat health and weight control, and Tiki Cat After Dark high-protein diets.
Tiki Cat Special™ includes three functional formulas: Fussy, Skins & Coat and Light. Each diet comes in a smooth mousse format formulated with a broth to improve palatability. All three formulas are grain-free, non-GMO and do not contain artificial ingredients.
The After Dark line boasts 95% meat inclusions from animal liver, lung and kidney proteins, speaking to cats' carnivorous dispositions. It includes four formulas — farm-raised beef, free-range venison, cage-free duck and free-range rabbit — all ethically sourced and manufactured in New Zealand. Animal proteins are the first ingredients in each recipe.
v-dog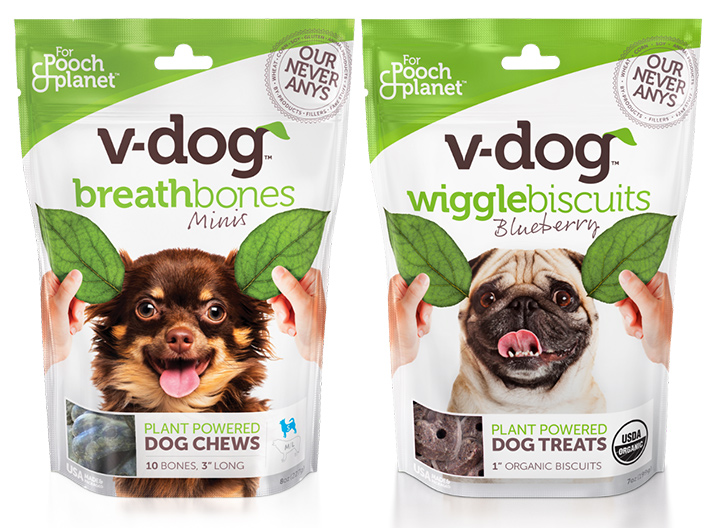 V-planet added dental chews and dog treats to its portfolio of vegan dog nutrition products in October. The new treats, called Wiggle Biscuits, are available in two flavors — peanut butter and blueberry — and are formulated with USDA-organic superfoods. The company's dental bones are hard chews designed to freshen a dog's breath, available in two sizes: mini and regular.
Zesty Paws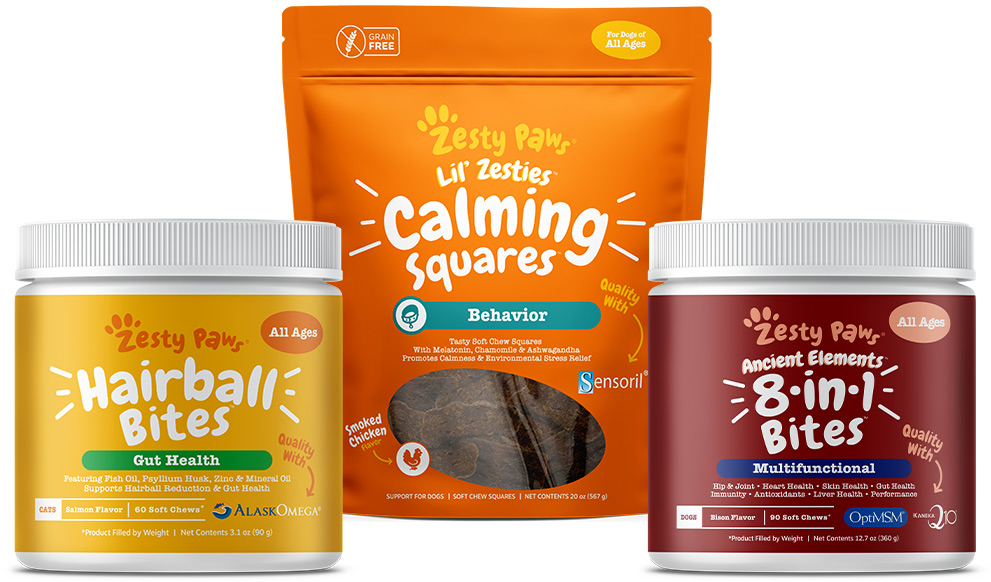 This pet supplement brand has launched three products since September, including Lil' Zesties Squares, Ancient Elements and a line of functional treats for cats.
Lil' Zesties Squares includes four solutions-based formulas for dogs with allergies, environmental stress, gastrointestinal and mobility issues. Each are formulated with a proprietary nutrient blends from third-party suppliers to enhance the products' overall functionality.
Ancient Elements supplements for dogs are heart-shaped soft chew treats that also target four key areas of pet health and wellness. The line includes a mobility formula for hip and joint health, a calming formula to reduce environmental stress, an Aller-Immune formula designed to support immune system health, and a multifunctional 8-in-1 formula targeting skin, gut, cardiovascular and immune system health. All formulas feature ancient grains such as quinoa, millet, amaranth and sorghum.
Finally, Zesty Paws launched a line of functional cat treats exclusively through Chewy in November. The line — which includes formulas to support immune system health, behavior and gut health — will be rolled out to other retailers after Jan. 1, 2021. These supplements are also infused with proprietary nutrient blends.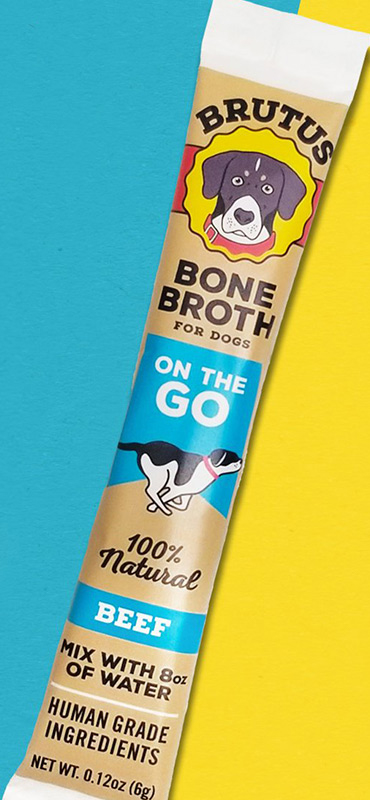 As pet owners continue to look for convenience and variety in pet nutrition, Brutus Broth answered the call with a new travel-size product, Brutus On The Go. This portable treat is a dried version of the company's original, human-grade bone broth formula and can be added to 8 oz of water to provide nutrition and hydration for dogs on the fly.
Plato's On-The-Go Energy Bars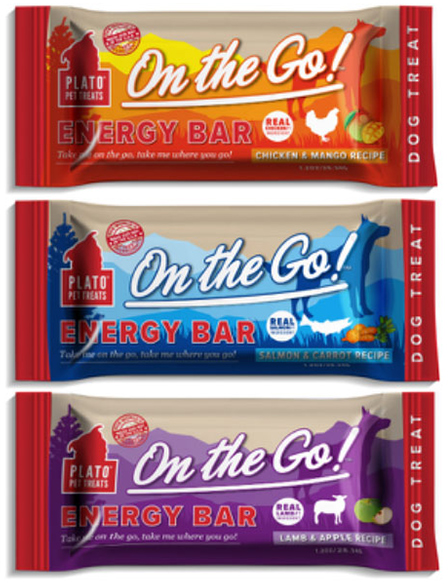 These treats are "made for trail-blazing, road-running, squirrel-chasing, park-punishing dogs that are on the move," according to the company. They are sold in single-serve, travel-sized packaging and formulated with real meat protein, fruits and vegetables to provide an energy boost to active or traveling dogs.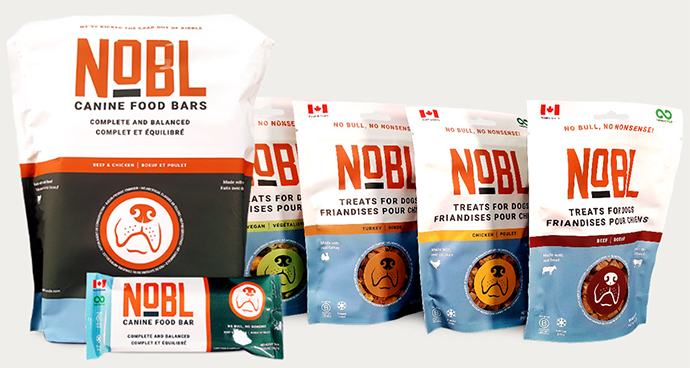 Guardian Pet Food Company is also catering to busy dog owners with its new NOBL Canine Food Bars. These complete-and-balanced, freeze-dried bars each feature 22 ingredients and are designed for on-the-go feeding. Guardian Pet plans to add a vegan option to the line in the coming months.

Ocean Spray Cranberries, Inc. entered the pet nutrition scene this year with the launch of its Tally-Ho functional water enhancers in August. These supplements are intended for dogs and were developed through Ocean Spray's Lighthouse Incubator, an in-house accelerator program through which the company develops and rolls out innovative products for the health and wellness markets.
Tally-Ho water enhancers for dogs are intended for daily use to improve flavor while delivering active, functional ingredients. It is currently available in three formulas: Oral Health with zinc and mint to promote healthy teeth and fresh breath; Emotional Health with L-Theanine and chicken flavor to promote calm behavior; and Immune Health with vitamins C and E, zinc and salmon flavor to boost immune system health.
WoofWell's breed-specific supplements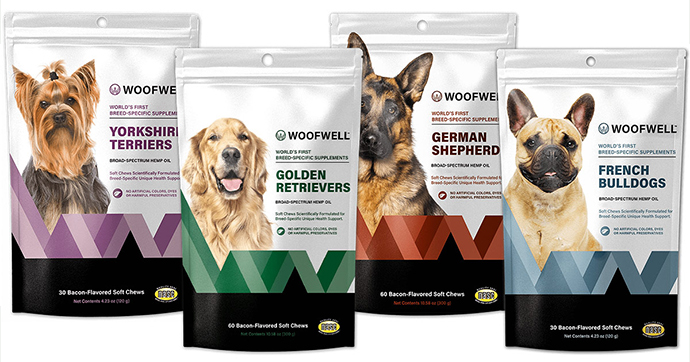 As the pet supplement market grows, WoofWell entered the space with a new take on health and wellness. The Texas-based company launched a line of breed-specific dog supplements in August, available for German shepherds, French bulldogs, golden retrievers and Yorkshire terriers. Each formula includes broad-spectrum hemp oil and is backed by veterinary research and a Quality Seal from the National Animal Supplement Council (NASC).

Water-soluble hemp supplements
Heirloom Pet Products launched in July with its first product: water-soluble, hemp-based meal toppers for dogs. These meal toppers are infused with broad-spectrum hemp oil that is soluble in water to provide a fast-acting functional solution for dogs of all sizes. Heirloom added to this line in September with an on-the-go Road Trip Stick, formulated with the same water-soluble hemp oil in a convenient, travel-sized format.
The company launched its third product, a water-soluble hemp-infused bone broth for dogs and cats, intended as a hydrating meal topper or treat.
These two companies partnered to release a water-soluble, CBD-infused dog treat, Vitality+, in October.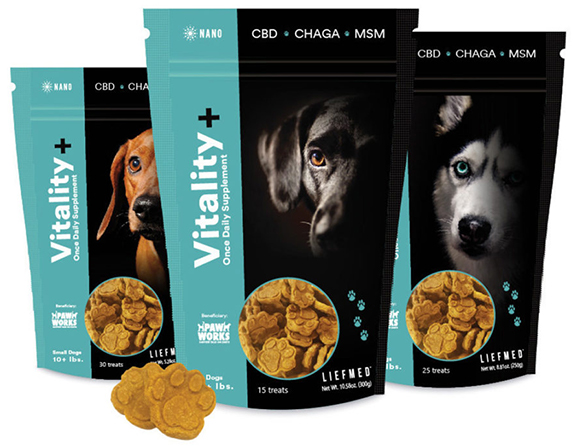 The treat is formulated with Chaga mushrooms, a "superfood" fungi found in northern Europe, Asia and the United States. The mushroom provides a source of antioxidants, amino acids, vitamins B2, B3, D2 and K1, and digestive aids to support gastrointestinal health. FireOrganix uses a proprietary method to develop its range of water-soluble, hemp-derived CBD ingredients, which it supplies wholesale to companies interested in developing CBD products.
Read more about new pet food and treat products.
[ad_2]

Source link