[ad_1]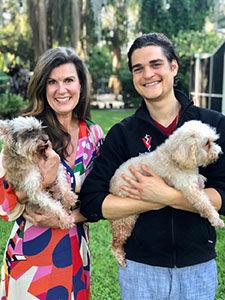 CBD Dog Health, a provider of full spectrum cannabidiol (CBD) products for pets, has appointed Zac Pilossoph, DVM, as its new chief veterinary officer.
"As the demand for pet products containing CBD continues to skyrocket, Dr. Pilossoph brings experience as a global veterinary cannabis educational expert to CBD Dog Health's hemp-derived solutions for pet parents nationwide," officials said in a statement.
Pilossoph will play a vital role in overseeing the quality, control and consistency of the company's holistic hemp product lines, including CBD oils and topicals, according to officials. Working alongside Angela Ardolino, co-founder of CBD Dog Health and certified cannabis specialist, Pilossoph will also serve as an advisor to pet owners and veterinary communities by providing personalized, medical cannabis consultations based on each pet's specific conditions and ailments, officials further noted.
"We're thrilled to welcome Dr. Zac Pilossoph to CBD Dog Health, and are confident that his knowledge in cannabis-based medicines for animals will propel the brand, and overall usage of CBD treatments for pets, forward," Ardolino said. "At the core of CBD Dog Health is our commitment to educating the public on how CBD helps our furry friends live their best possible life. With the addition of Dr. Pilossoph, we will elevate our position as the authoritative source in the pet cannabis industry, and set the category standard for full spectrum CBD products for dogs and cats." 
Pilossoph began studying medical cannabis for animals a couple years after graduating top of his class from the Tufts University Veterinary School of Medicine. Frustrated by the difficulty he saw pet owners experiencing when trying to find the right information about CBD, Pilossoph dedicated himself to advocating and educating on evidence-based information that can help guide the therapeutic uses of medicinal cannabis on animals, officials said. As a nationally recognized veterinary professional and certified CBD professional educator from CBD Training Academy, Pilossoph provides more confidence for pet owners and veterinarians on the medical aspects of cannabis, officials added.
In related news, Pilossoph has also joined the board of officials for Fire Flake Farm, a nonprofit animal rescue operation led by Ardolino in Lutz, Fla. As the primary veterinarian for Fire Flake Farm, Pilossoph will oversee the safety of the rescue animals as Ardolino transitions them to cannabis treatments using CBD Dog Health products to "give them a second chance at a happy and healthy life."
To learn more about Pilossoph, click here to visit his website and here to listen to his interview on "It's a Dog's Life Podcast with Angela Ardolino" on Cannabis Radio.
[ad_2]

Source link