[ad_1]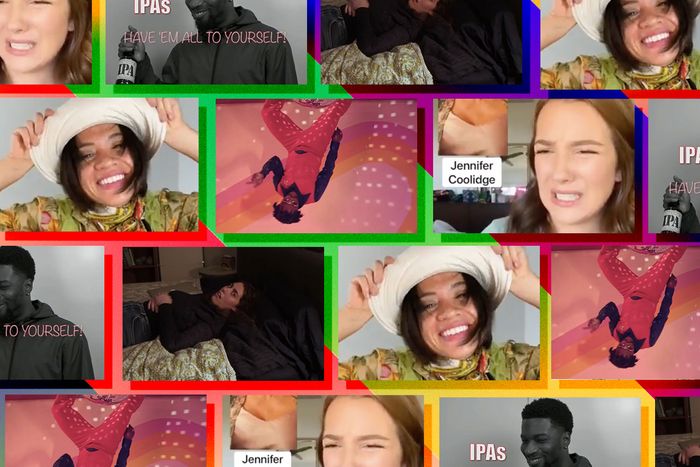 Photo-Illustration: Vulture; Photos by Demi Adejuyigbe/YouTube, Mary Elizabeth Kelly/Twitter,Talib Babb/Twitter, Hannah Lynn Crane/Vimeo and julia shiplett/Twitter
Each month, many funny videos are posted to every corner of the internet — from Twitter and Instagram to Vimeo and sometimes other weird places we'll have trouble embedding. Because you're busy living your life, you might miss some of these funny videos and feel left out when others bring them up in conversation. Well, worry not! We're here to make sure you're not listening in on conversations but leading them … as long as those conversations are about funny internet videos. Here, our favorite comedy shorts of the month.
The 21st night of September has, for the 2,020th time (if we're going by the Gregorian calendar), come and gone. But for comedian, performer, director, and visionary Demi Adejuyigbe, it's this, the fifth anniversary of the celebrated date, that holds particular import. Back in 2016, Adejuyigbe began a journey of making one totally outlandish, expertly produced video rendition of Earth, Wind & Fire's hit "September," timed perfectly to be released on YouTube … each and every September 21. If that wasn't great enough, Adejuyigbe uses the videos to drum up awareness for various charities, for which he has raised well over $1 million since he began. After this year's piece, that number is likely going waaaay up.
You'll be amazed by how uncannily accurate all of Bardia Salimi's screams are. From Tom Hanks in Cast Away to Paul Giamatti in Sideways, he nails them all. The only yelling he can't match is that of his roommate (Nick Naney) — or, more accurate, the guy letting him stay on the couch who doesn't have the same appreciation for Salimi's impressions as we do.
We were singing Chloe Fineman's praises in 2018 for her pathologically strong, whole-body-employing celebrity impressions. And today we'd like to give the Annual (But Sometimes Not) Bonkers Impressions Award to Mary Elizabeth Kelly in recognition of a perfect Tina Fey, great Kristen Wiig, and chilling Adele. Each is delivered with not just vocal acuity but total spiritual intention. Lorne!
Ever bring a six-pack to a party as a nice gesture only to have each bottle vanish into the hands of your fellow partygoers before you can take a sip? Talib Babb has the solution, and it's simpler than you might think: Just develop a taste for only hoppy beers that taste weird to everyone else. This sketch also got us in the mood to purchase and hoard some IPAs, so it's successful as a commercial as well. Lagunitas, pay Talib Babb!
In Hollywood, there's an old saying: "Every time an executive hears a pitch about a docucomedy in the vein of Nathan for You where the subject tries to find love using dating apps, an angel gets its wings." But Hannah Lynn Crane actually went for it, and the result is an emotionally resonant, completely hilarious chronicling of her actually doing the thing so many others only pitch about.
If you've accidentally double-booked yourself for two dates in a row with a straight cis guy and a not-straight, not-cis person — both of whom are named Frankie — Julia Shiplett is here to give you quick tips for adjusting your style to fit the occasion. Unintentionally messy makeup passed off as a deliberate choice? Too many accessories that make it hard to know which part of the outfit you're supposed to focus on? All good options. If nobody likes it? Well, that's just biphobia rearing its ugly head again.
A classic speech given an insightful new spin by the delightful character wheel that is Evan Watkins. You see, it's not enough to simply catch a ferocious, people-eating great white shark. If you want to banish that shark, you must shame it into never rearing its bloody jaws ever again. Emphasis on the shame.
The first, most-liked comment on this video is from YouTube star Paint, and it reads "She never misses," with the she in that sentence being Sarah Smallwood Parsons. And Paint is correct. She has not, to date, missed. Especially now that she has determined the true meaning and biological mechanics behind the "circle of life."
An overfamiliar landlord swings by the apartment in a gesture of neighborly passive-aggressiveness to mooch a seltzer and impose a few neighborly extra fees on his tenants — it's only the responsible thing to do if you're a real landlord! This video from Sahib Singh will also finally help you nail down exactly the kind of fleece vest we should start calling a "landlord vest."
Summer may be over, but if you're Jack Bensinger (feat. Eric Rahill), that's not going to stop you from finally cracking the song of it — a song about all the impeccable vibes you are not prohibited from celebrating once it is definitely fall. "I don't even care if I'm sunburnt / I can't feel the pain if I'm feelin' turnt," sings Rahill, one of many summer-specific odes to partying with your boys that will keep you going until summer '22.
Like what you saw? Want to be on this monthly roundup? Show us your stuff! 
Luke Kelly-Clyne is president at Big Breakfast and a watcher of many web videos. Send him yours at @LKellyClyne.
Graham Techler has contributed writing to The New Yorker and McSweeney's Internet Tendency. Send him your videos at @gr8h8m_t3chl3r.


[ad_2]

Source link