[ad_1]

The food containers in the front yard were the first clue for Lora Cicalo and others at the Ramona Senior Center that something was wrong.
While homebound seniors in the community were continuing to get food deliveries through Meals on Wheels during the coronavirus pandemic, they were sharing those meals with their pets.
"During the COVID-19 pandemic, a lot of our senior clients were scared to frequent the stores to purchase pet food and supplies for their furry companions," said Cicalo, executive director of the Senior Center. "We needed to get to those seniors in need."
When Cicalo learned about a Pet Smart grant through Meals on Wheels, she applied and was accepted. The $4,000 grant allowed the senior center to provide a bonanza for 56 pet owners: 985 pounds of wet and dry food, pet beds, litter and litter boxes, shampoo, toys, treats, collars and a dog crate.
The 96 recipients included cats, dogs, two ponies, four chickens and a turkey.
After shopping for several weekends to buy all the pet items that had been listed in a survey sent to recipients, Cicalo and others, including Meals on Wheels delivery people and Senior Center staff members, delivered the items in late April.
Cicalo wondered about the turkey — whether it was actually a pet or one of the wild turkeys that frequent parts of Ramona.
"I followed the drivers with the vans with the supplies and as soon as we pulled in I saw that turkey sitting in a tree in their front yard," she said. "I was like, 'OK, they really have a turkey.'"
Delivery people were greeted with looks of amazement or tears, she said.
Grant recipient Steve Pachura, 78, a retired teacher with the Sweetwater Union High School District, has a 37-year-old pony, Missy, and a labradoodle named Spike.
His pony has her own way of letting him know she's hungry, he said.
"Missy will open the screen door and stick her head in, make a lot of noise with the screen door," Pachura said.
The past year and a half have been tough, Pachura said. He went through treatment for prostate cancer and then during the pandemic took a fall off a tall ladder in his back yard.
"I was lucky," he said. "I didn't break my neck or back but was in a wheelchair for about four months. I broke my heel in two places and fractured bones in my wrist and toe."
When he heard about the pet grant, he listed a few requests in the survey. And then a couple weeks later, Cicalo came by with a container of pony treats, a dog's squeaky toy, tennis ball and a large dog bed.
"It was a surprise and a gift," Pachura said. "A great gift."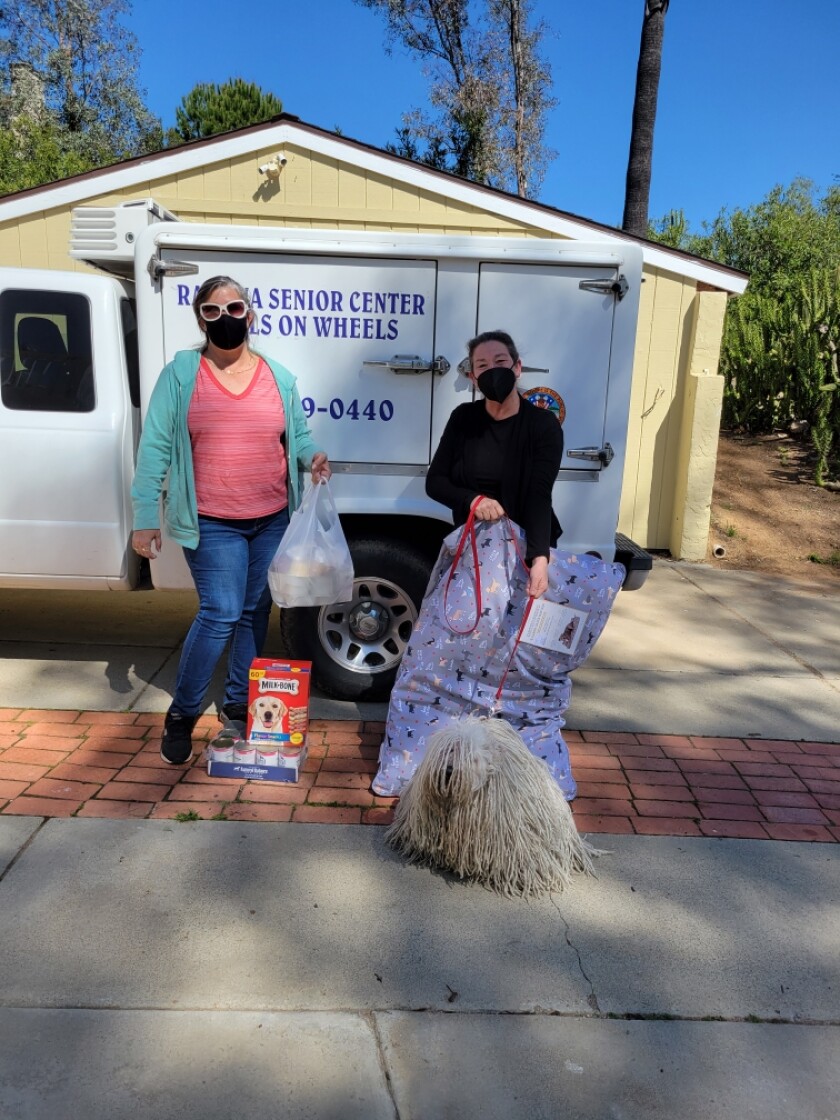 The delivery of a dog bed, high-end dog food and treats for her rare Hungarian Puli, Kati, was quite a surprise for Jody Davis.
Davis, 61, said she didn't even know about the grant and had never filled out the survey. She said she figures a good Samaritan did it for her.
"Whatever it was, it was definitely a treat," said Davis, who moved from Hawaii during the pandemic to stay with a friend in Ramona, where she has lived off and on for decades.
Ten-year-old Kati gets a lot of attention, according to Davis. The fur of Hungarian Pulis is curled tightly into dreadlocks, which protects them in the cold weather. So Davis is used to people calling Kati "the mop dog."
She thanked the Ramona Senior Center for including her in the grant.
"Everybody has dogs and what people don't take into account is the cost," Davis said.
What 72-year-old Susan Boyd really wanted was a second dog crate so she could have a crate downstairs and in her bedroom upstairs.
Her maltipoo, Hana, had slipped off her bed and landed on her back, rupturing a disc, Boyd said. After multiple treatments and surgeries that cost thousands of dollars, Hana was still having trouble walking.
"She can't go upstairs," Boyd said. "She can barely walk. She used to jump like a rabbit when she went upstairs."
Boyd, who has arthritis in her knees, has her own trouble with the stairs.
Through the pet grant, Boyd got her second dog crate — which helps her keep Hana, 7, safe from jumping up on the bed and further injuring her back.
"Every night I take the crate upstairs when I go upstairs to do anything," she said. "Then I get her and carry her upstairs and put her in the crate."
She also got dog food and toys for Hana.
"They made me cry because they cared," she said about Cicalo and Senior Center staff.
For Cicalo, that was a moment to remember.
"She was teary-eyed," she said. "That meant a lot."
[ad_2]

Source link