[ad_1]

When a toy dog and a guinea pig team up to save an imprisoned elephant seal, the world becomes a little sunnier in a new children's book, "Scootamapah!" by Dunnellon author, poet, and Professor Emeritus James Vredevoogd.
Vredevoogd, a retired art professor from Edinboro University of Pennsylvania, also is a member of the Dunnellon Poetry Society. His son, Thomas, illustrated "Scootamapah!"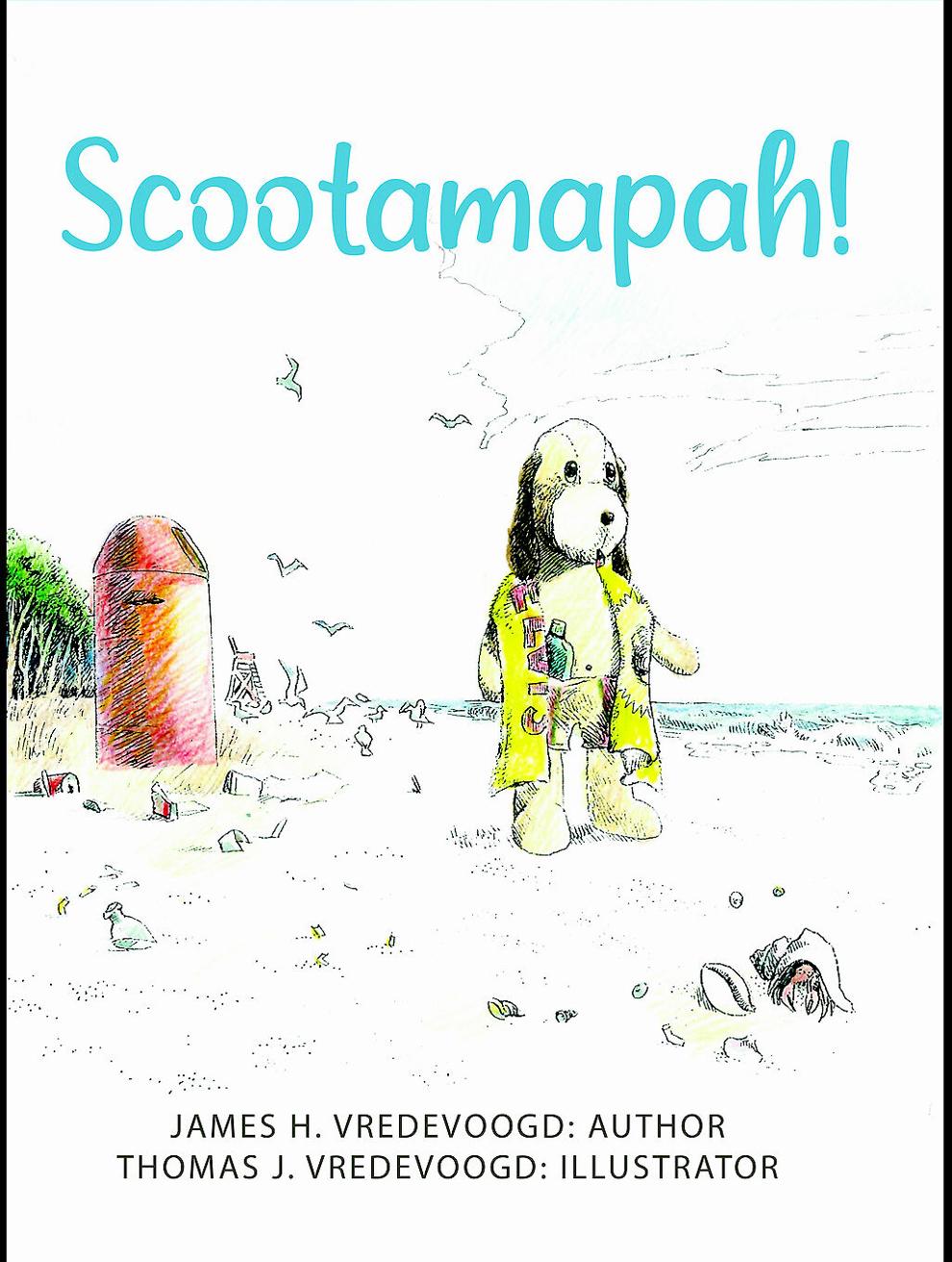 Vredevoogd said he wrote the book in the late 1980s and tried to find a publisher then.
"But the system is too difficult to get through," he said.
So, he set "Scootamapah!" aside until now, when he felt he'd like to make another attempt to share it.
"I'd like to see it read by a lot of people," Vredevoogd said. "I look at that little book as a work of art. It's a nice little book."
Vredevoogd said his son, Thomas, drew the illustrations within the past few years and chose which parts of the book to illustrate.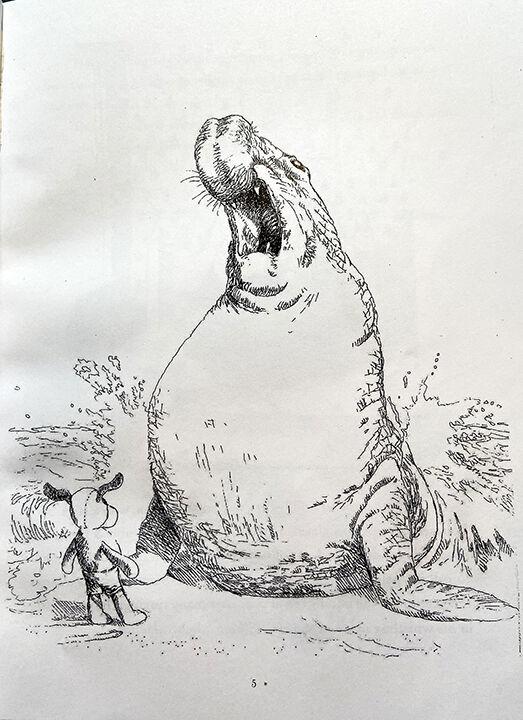 "He can visualize and then draw what he's visualized. He sees exactly what needs to be there," Vredevoogd said.
For most of his life, Vredevoogd has been making art in one form or another.
He grew up on an 80-acre farm near Flint, Mich., and spent many hours helping his family with their agricultural pursuits.
"When you have a farm, work is what you do," Vredevoogd said.
But sometimes, he'd draw or paint when he could break away from the farming tasks, and sometimes, his mother would take him to an art supply store and buy him watercolors or pastels.
He joined the Naval Reserve during his junior year of high school and upon graduation, spent 1956-'58 on active duty with the Navy in the Mediterranean. He served as a "deck ape," an electrician, and a teletype operator, he said.
The ship's library was where he spent a good deal of his free time, and some of the officers encouraged him to attend college.
He did, first attending community college, then Michigan State, where he earned a degree in art education. He said he had wanted to have a double major in English and art but decided to be practical and earn the education degree. He started writing poetry in his senior year of college and said he's always been a reader and always has loved literature and poetry.
While Vredevoogd was in college, he also married Jeanette, a young woman who had attended his high school and whom he had taken out once. They reconnected at a party a friend hosted, "and we haven't been apart since," Vredevoogd said. In August, they will celebrate their 60th wedding anniversary.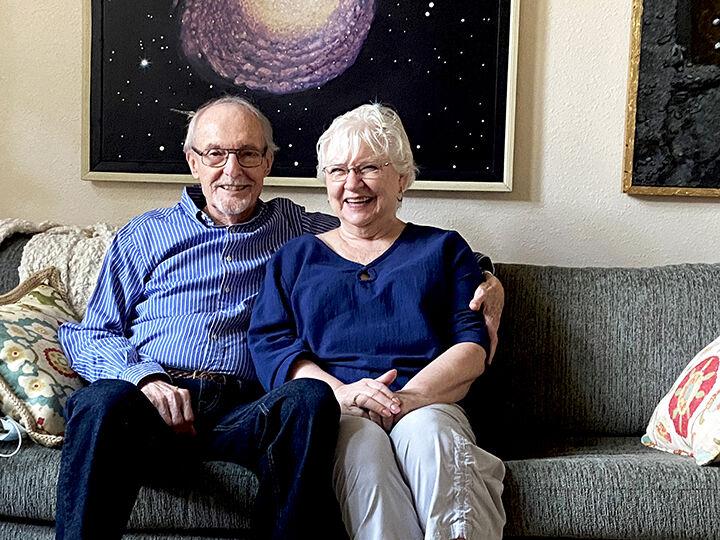 Upon graduation, Vredevoogd was a traveling art teacher with the Flint Public School system, dividing his time between two elementary schools. After a year, he returned to school and earned a master of fine arts degree from Cranbrook Academy of Art in Michigan. By the time he finished graduate school, he and Jeanette had three children.
Vredevoogd's MFA degree led him to a position teaching drawing, painting, and performance art at Edinboro University of Pennsylvania.
Vredevoogd's acrylic paintings are explorations of time, space, and place, portrayed realistically but with surreal subject matter. Many are influenced by science or reference such sciences as astronomy or physics.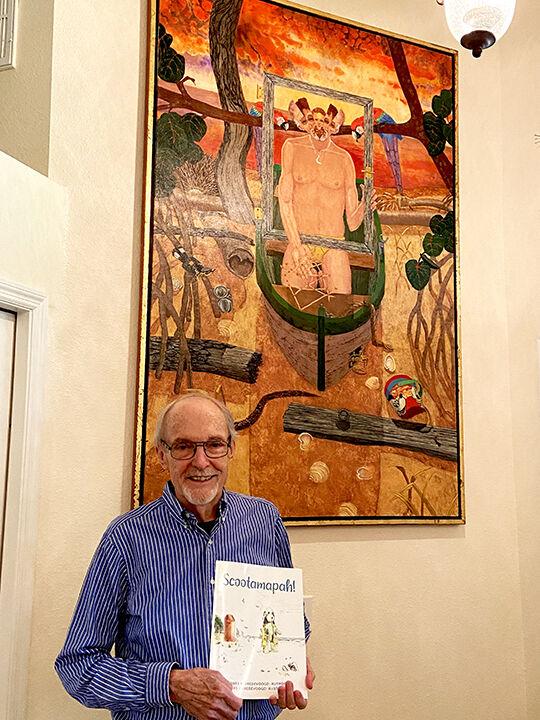 A portrait of himself upon his arrival in Florida, "3, 30, 60," shows a figure with a head like Russian nesting dolls. The doll head in the center is the artist at age 3. The head around the child's head is the artist at 30, and that's surrounded by a head at 60. The figure is in a boat that's on land and holds a picture frame around himself. Two parrots peek their heads inside the frame, but their tails are outside the frame. Seashells, a snake, and a Walt Disney-themed sand bucket are outside the frame.
Vredevoogd said "3, 30, 60" is the first painting he did after retiring to Florida in 1998. "It's about transition. All of the elements are transition symbols or are about change," he said.
He told about an experience he had as an elementary teacher that started opening up the way he visualizes, experiences, and expresses everyday life.
One day, he was taking his students to the gym from an upstairs classroom, and he and the class met the physical education teacher at the bottom of the stairs. That teacher greeted each student individually, working his way up the stairs.
The students then followed the p.e. teacher into the gym. He had them sit in a circle and lean to one side. He asked them what they just had done. They said, "We leaned."
He said that yes, indeed, that was true, but the students also had created more space on one side and lessened the amount of space on the other side.
Vredevoogd was intrigued by this teacher, so he observed the p.e. teacher teaching other students.
The p.e. teacher had the students move around the gym, creating more space, then closing the space, while always observing the space among them. Later in the week, the teacher introduced music. By the end of the week, the p.e. teacher asked the students what they had been doing. They said they had been moving around the gym to music.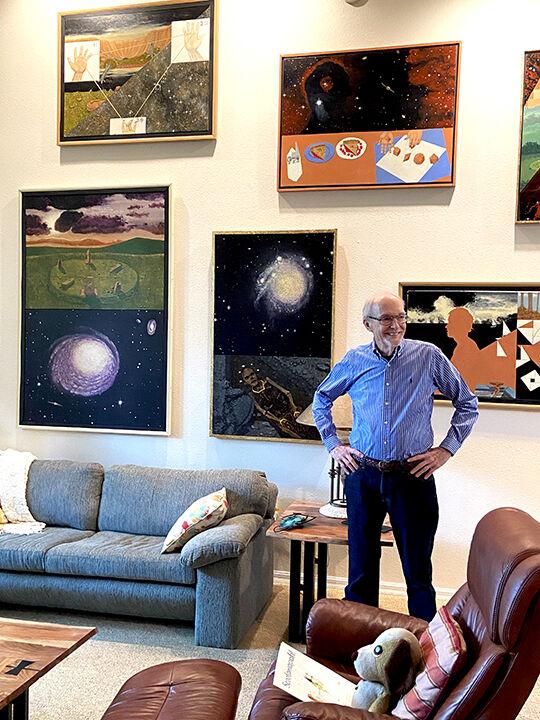 He told the students, "You were designers of dance. You were choreographers," Vredevoogd said.
Remembering how his fellow teacher had tried to get his students to open their minds and think and move in different ways "still grabs me," Vredevoogd said.
Vredevoogd tried to get his university art students to be more observant and appreciative of their surroundings by asking them to explore such things as, "This is a rectangle, but what about the rest of the room? How can you relate this versus that? How can you relate it to the rest of the world? How can you relate movement versus standing still? How can you relate time and space? Einstein said time and space are the same," Vredevoogd said.
He taught a graduate level class, open to anyone in the university, and not only art students, but music students and even physics students would sign up. They would explore, interpret, and perform for others their investigations into such concepts as "What do relationships really mean in art?" Vredevoogd said. They would probe questions about composition.
This flexibility to explore the possibilities that present themselves seems to have led Vredevoogd to children's book writing — and to being open to really listening to what his children said.
In 1977, Vredevoogd and wife, Jeanette, loaded up their children in their van and drove on a family vacation to the West Coast, starting in Washington State and ending in Los Angeles.
When they were south of Portland, Ore., they pulled up alongside a cliff and looked below and saw about 50 elephant seals on a narrow beach.
One seal was trying to get into a group of seals, but a big male seal was trying to drive the other seal away.
The couple's youngest son, Aaron, was a "very verbal" child, Vredevoogd said. Aaron looked down on the seals and said, "Look at the scootamapah."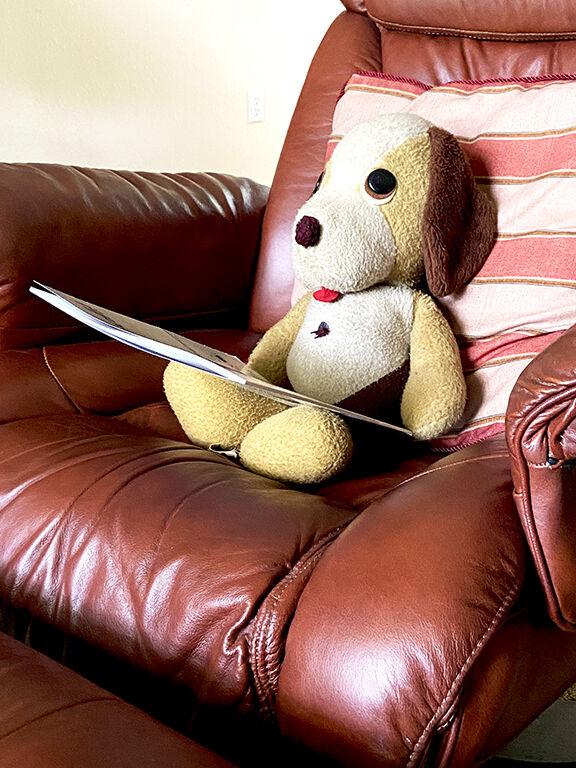 The word was a perfect blend of the action of the seals and the noise they made, Vredevoogd said.
By 1988, Vredevoogd had penned the story of the scootampah, which son, Thomas, later would illustrate.
Vredevoogd said that as his children were growing up, he'd ask them to tell him a story, he'd write it out, and then he'd ask them to illustrate it.
Today, Thomas and Aaron both are musicians in Oregon, and both studied art in college. Daughter, Gwen, majored in English and minored in art as an undergraduate, then earned a master's degree in library science and is a librarian and poet in Virginia.
Northrop, the main protagonist in "Scootamapah!" is a toy dog bearing a keen resemblance to Aaron's pet dog, Norman.
Jeanette recently found Norman while unpacking boxes, and he now sits in a recliner in the Vredevoogd's living room, sometimes with a copy of "Scootamapah!" in his paws.
All three children had guinea pigs as pets when they were growing up. It's probably no coincidence that Northrop's sidekick in the book is Soothman, the guinea pig.
Vredevoogd said he has written three other children's books, as well as a memoir about growing up on a farm in Michigan. He's also working on a book about how to draw that incorporates some of the techniques he used in the classroom to get students to shift from left to right-brain thinking, he said.
He'd like to share "Scootamapah!" with readers because, he said, it is "a sweet story, and with a lesson about what people do to other species."
[ad_2]

Source link